With sustainability and the good of humanity at the core, Audi is driving progress in automotive innovation, helping to shape the world of tomorrow.
Audi aspires to lead the way in the transformation towards clean mobility in an effort to help drive change within society as the world collectively unites to resolve climate challenges.
As part of this journey, Audi has set a goal of company-wide net carbon neutrality by 2050.
Committed to ensuring a sustainable approach along the entire value chain, Audi is assuming responsibility for its employees, the environment and society, making sustainability management an integral part of all of its processes.
As part of Audi's vision for a sustainable future, all-electric models are produced and delivered to customers under net carbon-neutral conditions.
To further support this, Audi is investing in charging infrastructure, promoting the expansion of renewable energies, and analysing the lifecycle of its models to identify even more carbon savings potential.
All processes are considered within Audi's carbon-neutral plan from sourcing raw materials and supply chain production to the utilisation phase and recycling or reuse at the end of a car's life cycle.
Electrification
Electrification has revolutionised the world of mobility, with Audi at the forefront of that movement.
In 2018, Audi heralded its electric future and the beginning of its sustainability roadmap with the Audi e-tron.
Now with eight electric models in 2023, by 2026 customers will be able to choose from a portfolio of more than 20 electric Audi vehicles, with Audi eventually moving away from the development of internal combustion engines.
The new Q8 e-tron provides an exciting insight into the future of electromobility at Audi where boundless creativity in design meets innovation and efficiency for a powerful, dynamic and luxurious driving experience.
Proving that electric is about more than just the drive, the e-tron models are built with purpose, with the customer needs at the heart. Optimal charging times, long ranges and advanced technologies including Audi Connect with the MyAudi app to lock, unlock, check fuel, charge or locate your car provide for a versatile experience.
Designing for the Future
Audi has long been known and respected for its design, which combines functionality with premium eye-catching aesthetics for an all-round exciting driving experience.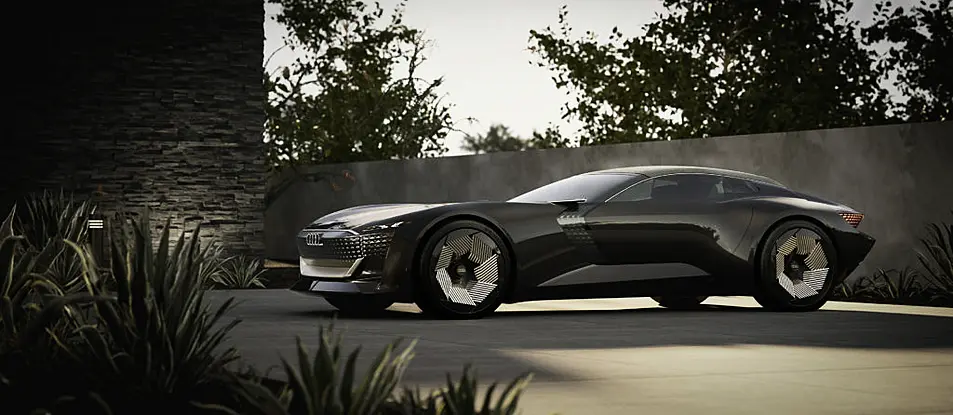 Audi's syksphere concept car
Through the power of innovation and inspiration, Audi has stepped into the future of design with its concept cars. The Audi skysphere, Audi grandsphere and Audi urbansphere concept cars each illustrate a vision of progressive luxury.
The word "sphere" emphasises that the interior will be granted heightened importance in future mobility options, the foundation for design and technology and a space that will provide passengers with the ultimate experience on the go.
For Audi, this includes a comprehensive ecosystem of automotive services for communications, relaxation, work or retreat in privacy. From automobile to experience.
Audi's Momentum for the Future
The automotive industry is undergoing a revolution.
Mobility providers are afforded the liberty to redefine the future of mobility.
Whilst an opportunity for technological innovation, this is also a responsibility that manufacturers must shoulder by boldly advancing towards a fully sustainable future.
Audi is leading the momentum in sustainable mobility.
Progressive technology, passionate creativity and a consistent claim to sustainable action give rise to fascinating vehicles for the here and now, as well as innovative visions and concepts for an exciting future, both globally and here in Ireland – it really is progress you can feel.