Shamrock Rovers manager Stephen Bradley has called for lifetime bans for the Cork City fans that sang "disgusting" songs about his son.
The incident occurred after Cork secured an important win in their bid to avoid relegation from the Premier Division as they defeated their Dublin rivals, who had three players sent off, at Turner's Cross on Friday night.
The fans are accused of singing songs about Bradley's nine-year-old son Josh, who went through treatment for leukaemia last summer.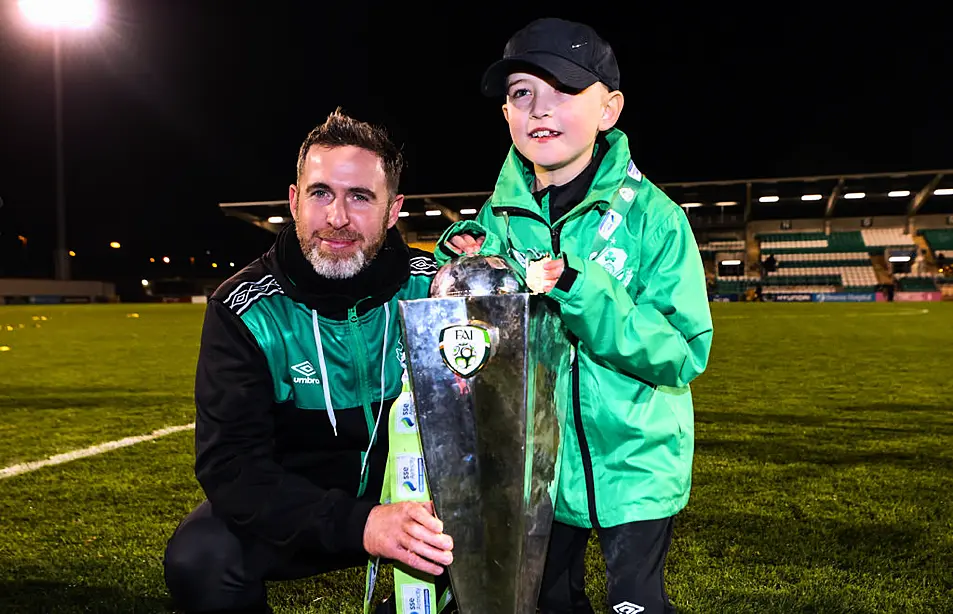 Stephen Bradley and his son Josh with the Premier Division trophy. Photo: Ryan Byrne/Inpho
Bradley said: "It's disgusting. I'm going to put in a report to the police. Singing about my son… You take stick. As a football person, that comes with it. That's your job and that's fine.
"But speaking about a sick nine-year-old is disgusting and Cork City should be ashamed of them. I want them banned for life. That's disgusting. That has no place in football or society. That's disgusting behaviour."
Cork City also condemned the abuse directed at Bradley in a statement they released on social media.
"Cork City FC wish to unreservedly condemn the actions of a handful of individuals who directed disgusting abuse at Shamrock Rovers Manager Stephen Bradley from outside the stadium shortly after tonight's match.
"The club will work with all relevant authorities to identify those involved and take the appropriate action against those involved.
"On behalf of the club, we wish to apologise to Mr. Bradley for the actions of these individuals."