Dairy farming is at the heart of Irish life; nearly 90% of the dairy products produced by 17,500 family farms (and the 60,000 people they employ) are exported to 130 countries, and contribute over €6 billion to the Irish economy each year. The industry is not, however, without its challenges and its impacts.
The Environmental Protection Agency (EPA) identifies agriculture as the major contributor to a reduction in the quality of around half of Ireland's rivers, lakes and estuaries. It indicates that, while more than half of our surface waters are in good (or better) condition, water quality in Ireland has seen a decline. This is, in large part, due to the 'run-off' of nutrients (nitrates and phosphates from fertiliser) from agricultural land.
Across Ireland farmers are employing innovative technologies and practices that are designed to reduce agriculture's environmental footprint, both in terms of GHG emissions and water quality impacts. The goals are challenging, but the industry is changing to address them.
Niall Moore farms with his wife in Annestown, Co Waterford. They milk 130 cows using a robotic milking system. Moore acknowledges that there are issues.
"I suppose agriculture is doing its best and of course the industry must play a serious role in improving water quality. I am a representative with Tirlán, the new name for Glanbia Ireland, and I am aware of 420 water improvement projects where there are advisers in place in different water catchment areas."
Natural filtration systems
He is keen to share practical examples and one such is a pilot project run in conjunction with Waterford County Council and scientist Dr Rory Harrington where farmers have reed bed filtration systems built on their farm to deal with yard run off water.
"You have a series of ponds that are planted with reeds," Niall says, "The topsoil is then put back into the ponds, the reeds are planted in these ponds and your yard run off comes down into each pond. The reeds take out the nitrates, the potassium, and the phosphorus, and the water then filters through that system goes off into another pond and constantly filters down."
"It started on my uncle's farm," he continues. "Willie Moore was the first to build this system and Éamon de Buitléar, famous for all his work in nature, actually drank a glass of water that had gone through his system. It's proven, it's constantly tested and it's a fantastic way of purifying water that might have been contaminated along the way. It also has the added benefit of creating a fantastic eco-system for biodiversity, plants and wildlife on the farm itself."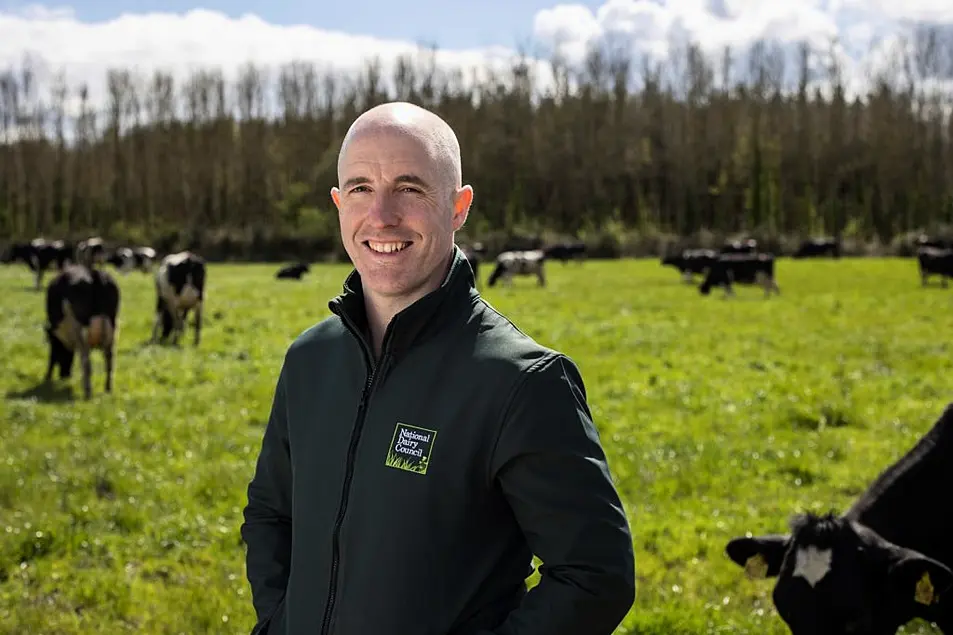 Dairy farmer Gearoid Maher pictured on his farm Killuragh, Cappamore, Co Limerick. Photograph: Clare Keogh
Mixing tradition and technology
Gearoid Maher took over a farm in Cappamore Co Limerick a year after finishing his degree in Ag Science.
"The farm has been in our family for five generations, but it had been rented out and there was nothing there – the sheds were falling down, we had more rushes than grass and all I had in my bank account was €200. I managed to get the money to buy a herd of cows and installed the infrastructure I needed, and I was determined to make it work."
Gearoid farms in partnership with his wife Sarah, and they milk 110 pedigree British Friesian cows on 200 acres "My father – and his father before him – bred these cows, so I wanted to keep the tradition alive."
With a focus on environmental sustainability, Gearoid says: "My wife and I are very conscious of the environment around us and focus a lot of farming practices towards reducing inputs and on animal welfare. I don't cut my hedges: they might look untidy, but we all need to realise that we can't keep cutting hedges or keep spraying fields with fertiliser."
He's also taking other measures to mitigate his climate impact.
"We joined the new ACRES scheme (the Irish government's Agri-Climate Rural Environment Scheme) to increase our biodiversity efforts. We have committed to put in 1500m of hedging along water courses, we recently put in a pond, and we have 20 acres of commercial forestry, as well as some natural woodland.
"Honestly, I can see us returning to farming the way we did 50 years ago, but with better technology to guide us, so we can be more efficient. As the saying goes, you need a farmer three times a day and that is not going to change."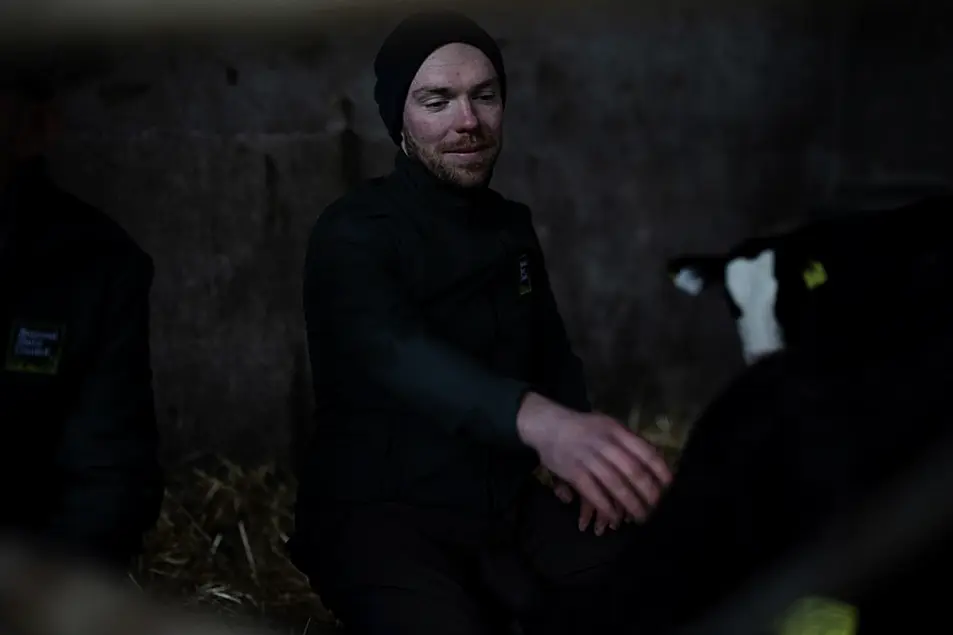 Brendan Walsh is among the seventh generation in his family to work the farm at Ballylooby, Cahir, Co Tipperary. Photograph: Clare Keogh
Low emission farming practices
Brendan Walsh farms near Cahir in South Tipperary with his parents and two sisters and is a seventh-generation farmer. "We have 160 cows and then about 40 beef animals. After studying dairy business, I was working off farm until a couple of years ago, but I was always up in the morning milking."
For the Walsh family environmental sustainability is at the heart of all the decisions made on the farm, whether it's adopting low-emission farming practices, introducing clover and other plants into the pasture, or soil sampling to manage fertiliser use.
"Water quality is key," Brendan says. "There is a stream that runs along our north boundary, so we don't put any fertiliser on the field bordering; all that ground has gone into ACRES. There is a small slope on our farmyard where rainfall will flow, so we put in a sediment trap here, and we have planted willow and alder to soak up any nutrients that might run off the concrete.
"Looking back at what we have achieved here in the last three years, with technology that is in front of us, there is big chance we can push our environmental footprint down and further improve on animal efficiency. Where do I see the farm in 10 years? I would like to think we can be even more environmentally sustainable, while also remaining financially viable, which is another important part of sustainability."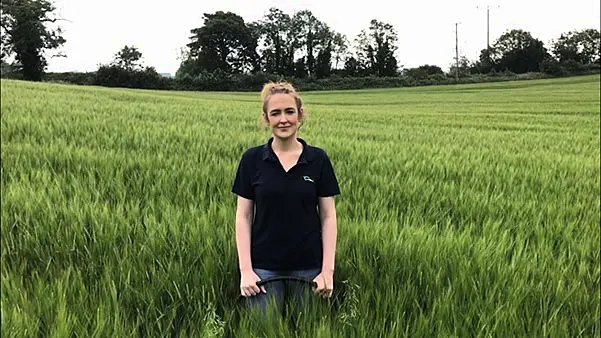 "We're taking measurements every ten minutes, which allows us to build a really comprehensive picture of what's in our rivers and streams," says Suzanne Neary, a catchment advisor with Teagasc
Sharing knowledge
Suzanne Neary is a Catchment Advisor with the Teagasc (the Irish agriculture and food development authority) Agricultural Catchments programme. The programme, which is in its fifteenth year, focuses on water quality monitoring in six catchments around Ireland to better understand agriculture's impacts on water quality, what other factors are involved and what can be done to bring Ireland's water bodies up to a 'good' standard by 2027.
"We gather a lot of data." she says. "We're taking measurements every ten minutes, which allows us to build a really comprehensive picture of what's in our rivers and streams, how levels fluctuate and when there are peaks and troughs. All of this allows us to build models, make predictions, analyse the factors controlling changes in water composition and feed the results back to the farmers."
What the work shows is that agriculture's impact on streams, rivers and lakes is affected by other factors beyond a farmer's use of fertiliser and the amount of cows on his land.
"You have to factor in soil type – which varies widely – and, of course, the weather. A drought – like that in 2018 – can have a massive impact on nutrients entering the water system, for example," says Suzanne.
"We refer to Mobilisation and Delivery of nutrients, and then Source – which is the farming activity itself. It's perfectly possible to have a relatively high Source, but low risk of water impacts because of low Mobilisation and Delivery.
"Much of my work is with the 120 farmers in my catchments, sharing knowledge and making recommendations – nutrient (fertiliser) plans, best practice in pesticide use, hedgerow and field border management, pasture management – and sharing the results of our research" Suzanne continues.
"The truth is that our farmers are genuinely interested in this – the good and the bad – and they want to know how they can improve and what they need to do to reduce their environmental impact."
You can find more information on sustainable Irish dairy farming here