Gains in the polls for Sinn Féin, pleas for a killer to be named, and the crisis in emergency accommodation are covered on the front pages of Sunday's newspapers.
TheBusiness Postreports have picked up three percentage points in the polls and the expense of Fine Gael and Fianna Fáil, alongside an article on the poll's findings that three in four think the State is 'taking in too many refugees'.
The Irish Mail on Sunday's lead is on the parent's of Cameron Blair, who died in Cork in January 2020, calling for their son's killer to be named.
The Sunday Independent's main headline reads: 'Soearing numbers in receipt of emergency state help', alongside an image from Munster's win over the Stormers in the United Rugby Championship in Cape Town on Saturday.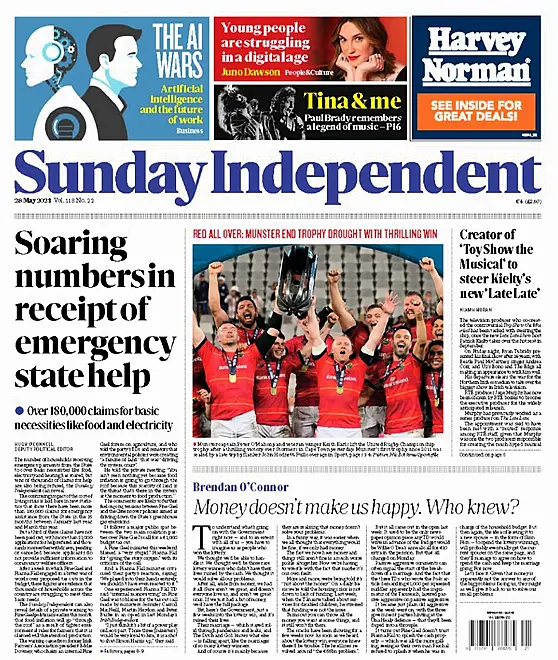 Finally, theIrish Sunday Mirrorreports that the family of Jasmine McMonagle has called for tougher sentencing after her killer was jailed for 14 years earlier this week.
In Britain, the front pages of Sunday's newspapers continue to carry the fallout from Phillip Schofield's exit from This Morning.
The Sun on Sunday and the Daily Star Sunday feature Holly Willoughby saying her former co-star lied to her about the affair he was having with a younger colleague.
Also covering the drama, the Sunday People wonders about This Morning's future, while the Mail on Sunday says Schofield's lover was just 15 when they first met.
Elsewhere, the Sunday Mirror writes that the chief executive of one of the UK's biggest children's charities killed a man as a teenager.
Labour leader Sir Keir Starmer will announce a ban on drilling in the North Sea, The Sunday Times reports.
Three Conservative MPs have claimed driving fines on expenses, The Independent reports.
Downing Street is drawing up plans for retailers to introduce price caps on basic food items such as bread and milk to help tackle the rising cost of living, according to The Sunday Telegraph.
The Observer says ministers are in a "bitter fight" trying to stop the release of "Covid secrets".
And the Sunday Express focuses on Suella Braverman insisting it is possible to reduce net migration without wrecking public services or stifling growth.